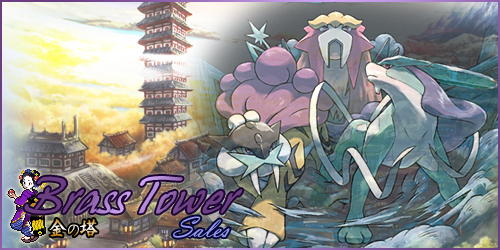 Sales permission granted by denkimouse around 2007-2008,


All prices are in US dollars, and I ship from the US. (And yes, I can ship internationally!)


Paypal only please. Please ask before sending an e-Check, all items sent after the e-Check clears.


Although this is a personal journal, all rules of pkmncollectors still apply.


I will not do business with anyone banned from or not in good standing (excessive negative feedback/warnings) at pkmncollectors. I won't sell through PMs either.


I will do holds, but please give me a timeframe in which you'll pay. Please don't leave me hanging either if you place an item on hold or agree to pay but don't. I'd prefer 48 hours at the most for a hold.


I depend on a ride into town to mail since I can't drive, but I will mail things off as soon as I possibly can, usually within a few days.


You can leave feedback here!


I can do trades, but only for Suicune, Entei, Raikou, Absol and Landmin items on my wishlist, or Zukan on my wishlist here, and I believe you are trustworthy. A link to your feedback thread helps.


I reserve the right to refuse sale to anyone.




Ryan
- Jigglypuff Trading Coin (Normal Brass) -
Paid; Shipped 3/24/16


2010 Topps European Candy Container Figures!
Brand-new, straight from their candy container balls! Each comes with a sticker sheet (pictured), a ball, and a little baggy of good to eat candy.
Entei's paintjob sadly isn't all that good on his face
(par for the course with these figures it seems like, my own Entei and Suicune of this set has similar issues),
and there appears to have been a bubble in the mold in his mane when this figure was cast
, but my own Entei has that same flaw as well, so it might be a flaw in the mold itself. Entei, Feraligatr, and Meganium available,
$4.50 each
Rare Electric-types Banpresto Slide Puzzle!
Condition is used and a bit dirty, but perfect for Sheep-lovers!
(Better photo)
$15Rare Pokemon Center Torchic Mechanical Pencil
I believe came from the same line as
these Absol pens/pencils
(from my personal collection, not for sale). Has an adorable tiny Pikachu figure hanging off it as well! Condition is good and also has silhouettes of berries, Pikachu, Flygon, Torchic, Treecko, and Absol on the clear green casing.
$8
Kaiyodo Preorder Figures!
Good condition, with a few very minor scuffs. Lugia, Ho-oh, and Arceus available,
$8 each
. Will be shipped in a box.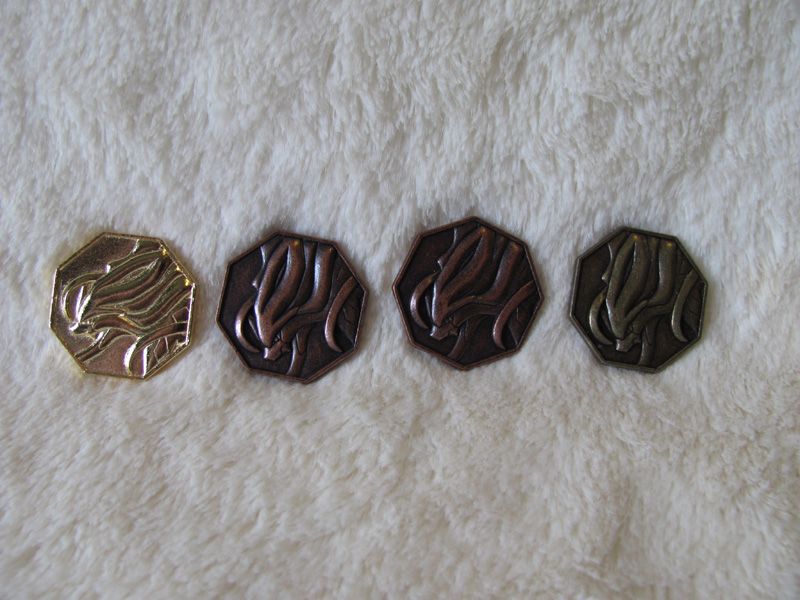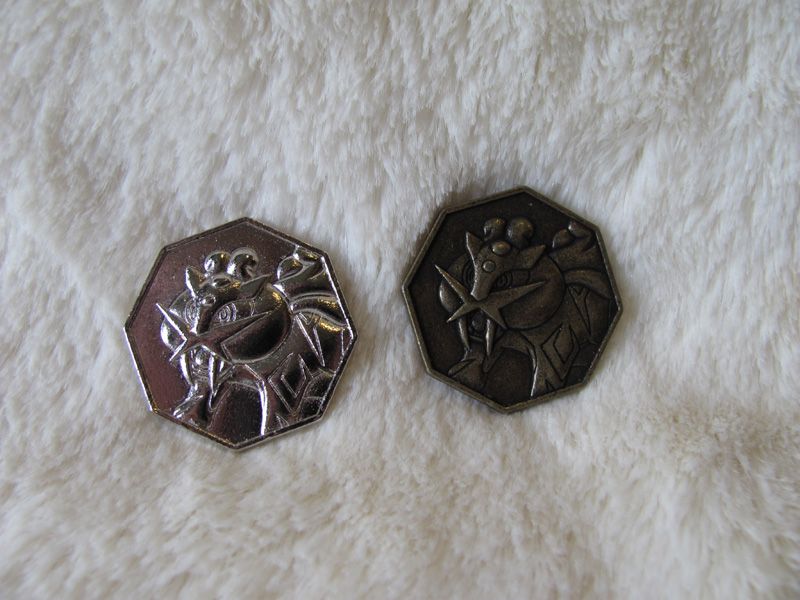 DP Metal Collection 10 Beasts!$3.00 each, OR trade for the gunmetal gray version of Landmin in DP6
Available: Entei (silver
x4
x2,
copper x2 x1
,
gold x1
),
Raikou (brass x2 x1 [I found one more after the photo was taken!], silver x1)
,
Suicune (copper x2 x1, brass x1, gold x1)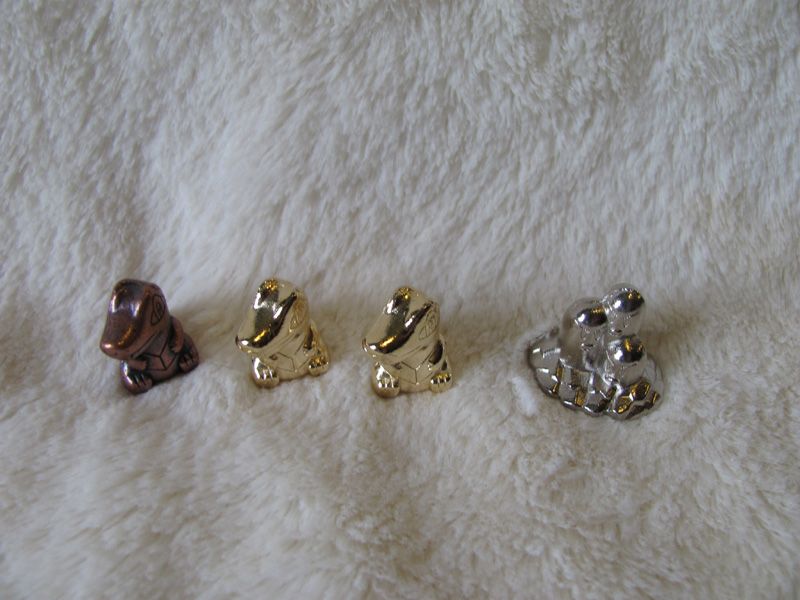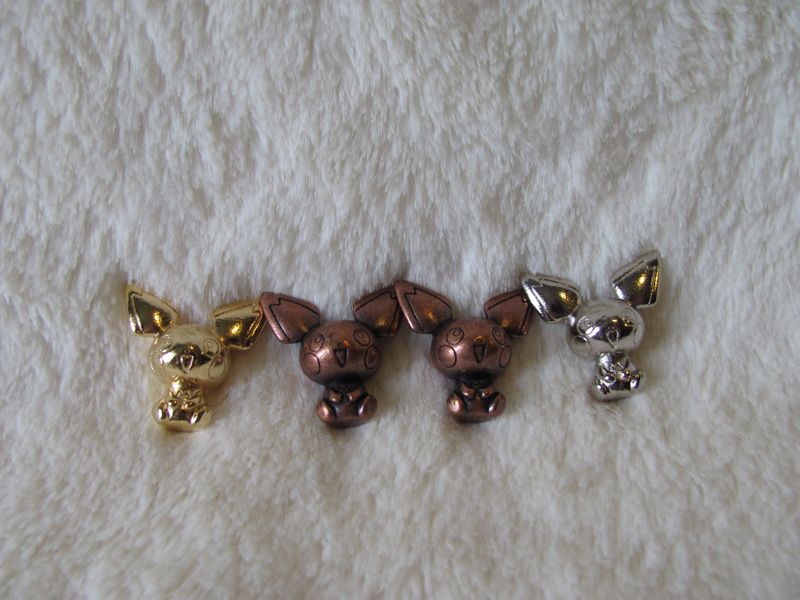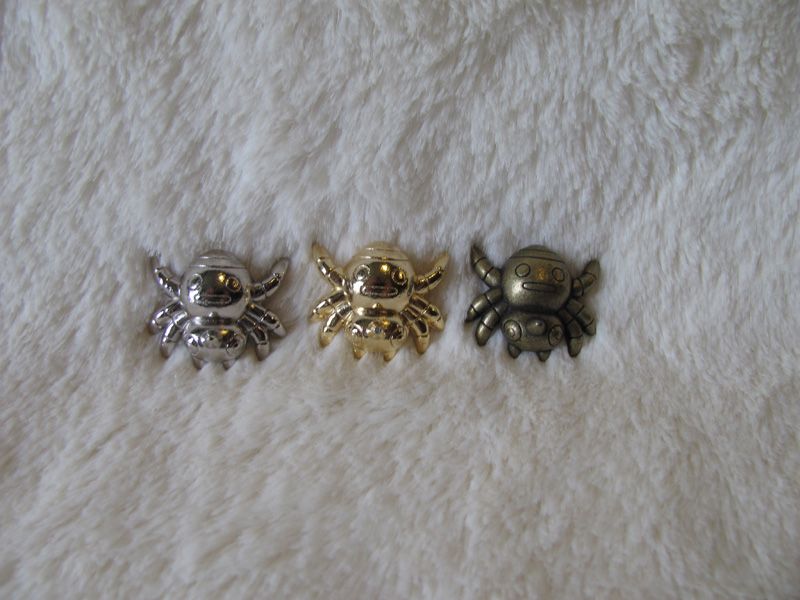 DP Metal Collection 10$2.50 each OR trade for the gunmetal gray version of Landmin in DP6
Available:
Totodile (gold x2, copper x1)
, Pichu (copper
x2
x1,
silver x1, gold x1
), Dugtrio (silver x1),
Spinarak (brass x1, copper x1, silver x1)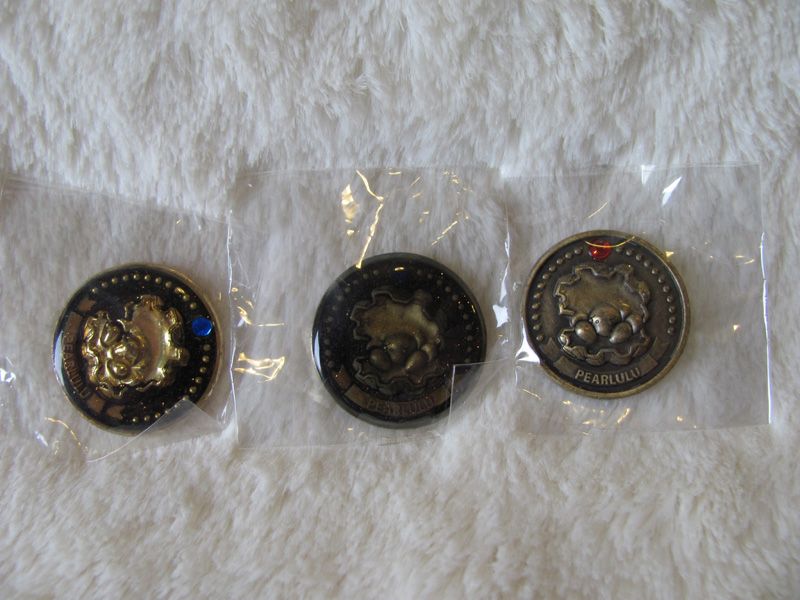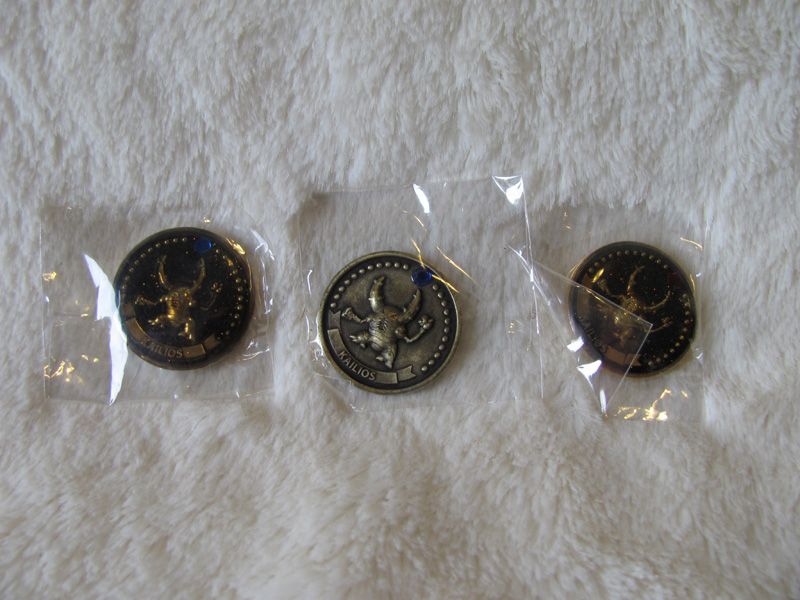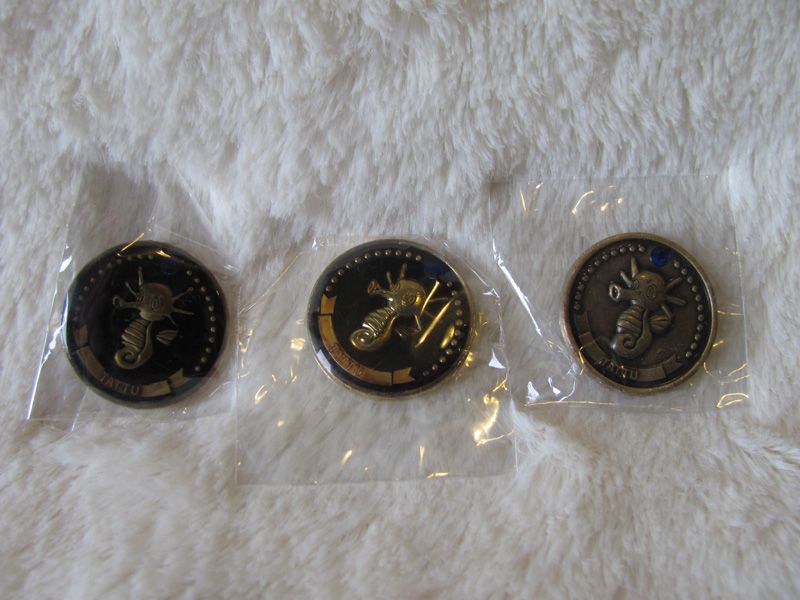 AG Trading Coins Part 4!
They come in many colors and in addition, types: normal and color change. The super-rare color change coin variants have a super sparkly background that's very difficult to capture in a photo.
$2.50 each
Available:
Clamperl (color change gold, color change brass, normal brass)
,
Shuppet (normal black)
, Pinsir (color change gold with red jewel, color change gold with blue jewel, normal brass), Jigglypuff (normal black x2,
normal brass
),
Marshtomp (normal gold, normal brass)
, Horsea (black-brass,
black-gold
,
normal brass
),
Castform (normal silver, normal black, normal brass)
Double Clear Shiny Suicune Battrio!

This guy is getting harder and harder to find, even on YJ, believe me. And even when it's found, usually the bidwars get intense. Lucky for you guys I have an extra! However, there's some flaws: seen better here, the casting of the clear yellow plastic seems to be imperfect. Some ripples on the inside of the plastic, extra plastic along the right edge leftover from the mold, and what even appears to be a bit of dirt inside the plastic where the é is. (I've tried to clean it with a wet Q-tip, maybe something scratchier might get it off if it's not in the plastic after all?)

I'm asking $20 shipped for him, which is what I originally paid for him individually. I know it seems high, but you'd easily pay that or more for him through a deputy. ;-; If you order anything else the "shipped" still stands, too.
Sold!
Battrio and Miscellaneous Coins!

Ultra Ball Pack Heatran - $3.50
Great Ball Pack Toxicroak - $2.50Super Rare Pokemon Center Suicune Pressed Coin - $8 Sold!
Dragonite Coin - $2.50
Chansey TCG coin - $1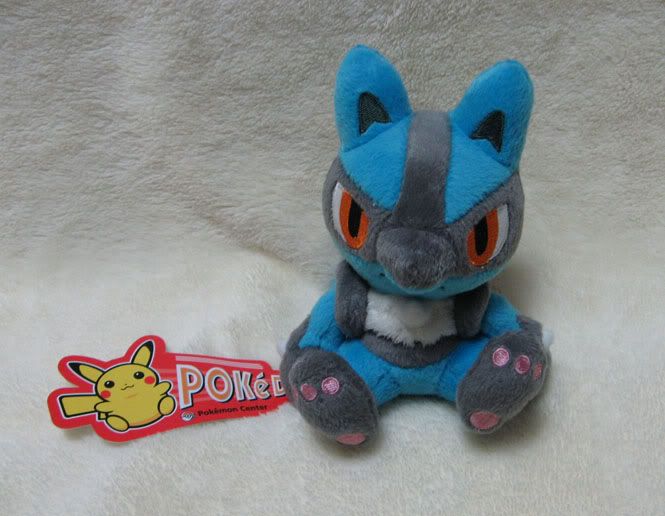 Lucario Pokedoll!
Mint with mint hang tag, tags are Japanese but bought from the Pokemon Center New York website shortly before it closed. Tags date 2005, made with velboa. No pilling as far as I can tell!
$20.00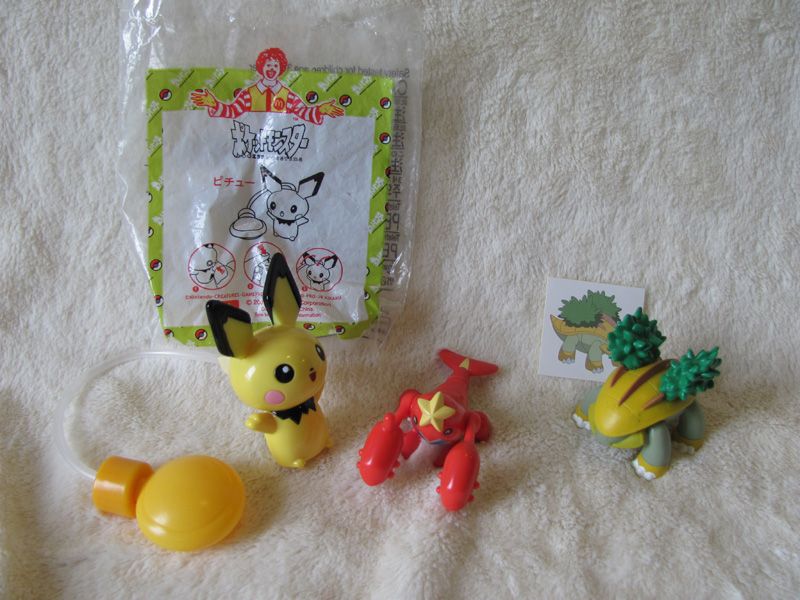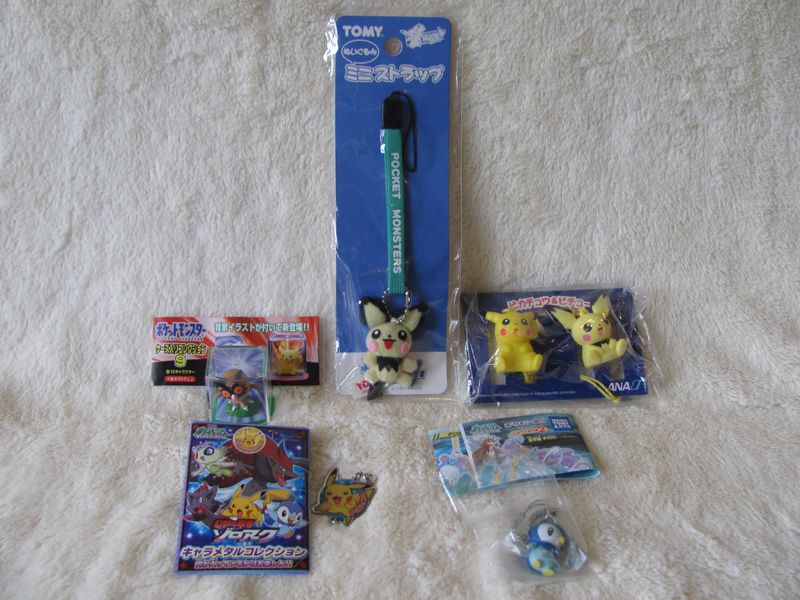 McDonalds Gen II-era Pichu with wiggling ears (the hose moves the ears when pumped and is removeable, comes with original bag) - $3
Jakks Grotle Figure (has green paint rubs, came packaged that way, and comes with matching seal) - $1
Hasbro Crawdaunt (one claw opens and closes!) - $2
Movie 13 Chara Metal Collection Pikachu Charm (comes with original packaging) - $3Netsuke Mascot Johto 2
(Brand-new with metallicy nameplates and braided straps)
Piplup $2.50
In-Case Collection Hoothoot - $4
Sold!Theatre Promo Pichu Mini Strap and ANA Promo Pikachu and Pichu Fingerpuppets!
Items I believe are from 2000, I couldn't find a year on the packages though. Pichu strap is a little squished, but in otherwise great condition. Both are sealed!)
- $5.50 for Pichu Mini Strap, $3.50 for Pikachu and Pichu fingerpuppets
.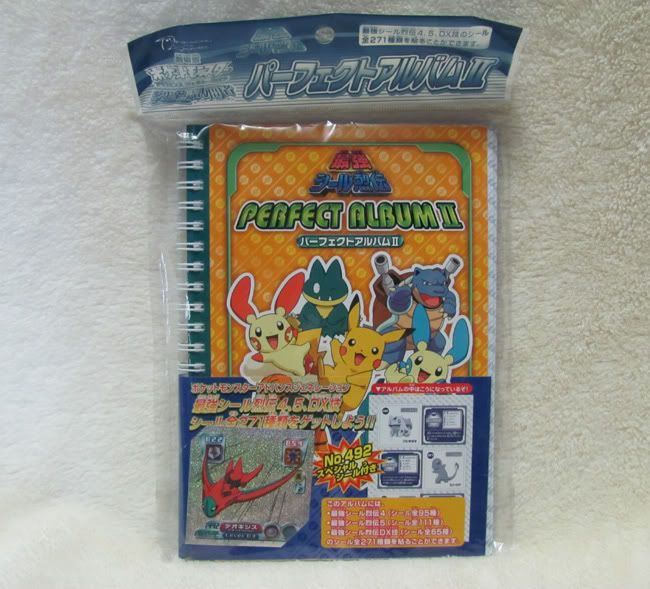 Seal Retsuden Perfect Album II!
Comes with holo Deoxys Seal Retsuden (aka Amada Seal). Sealed, though the seal was opened once to look at the album. It is a stick the seal to the page-type album rather than pages with pouches.
$3.50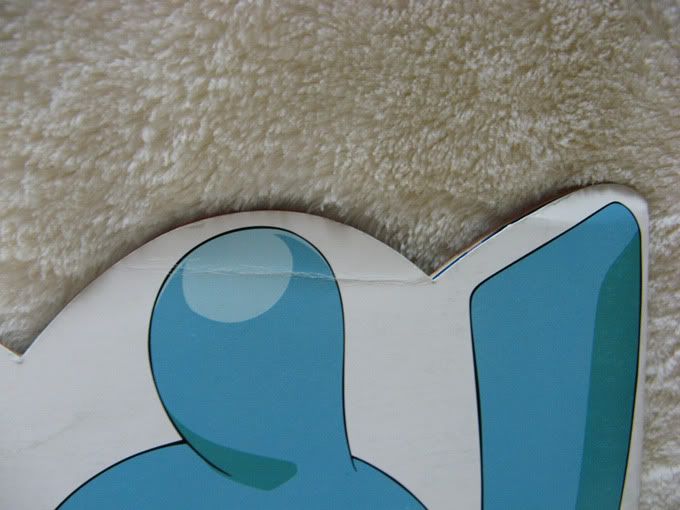 PikaPika Starlight Camp Program!
Features spectacular full-color pages from the short!
Condition:
Very good; Some faint dirt along the edges of front cover (shown) and creased at the top. Pages inside however are pristine.
$5.00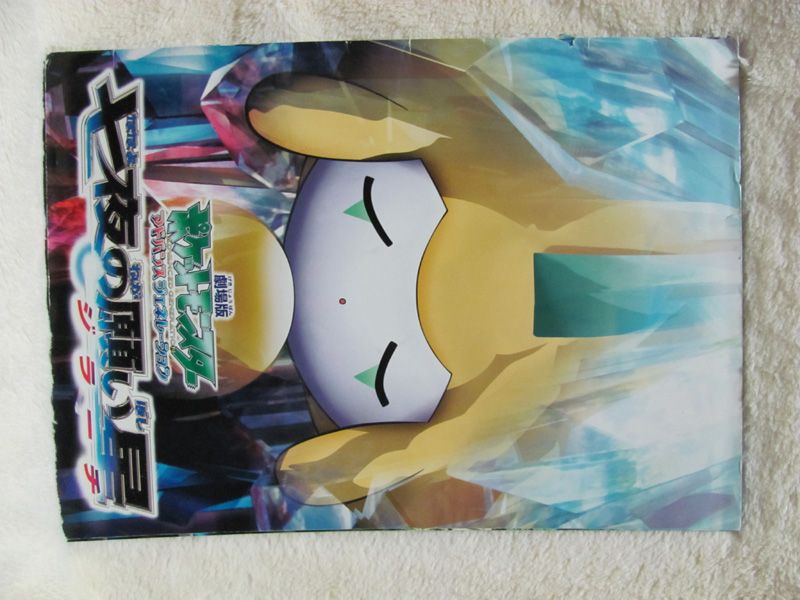 Wishing Star of Seven Nights: Jirachi Movie Pamphlet!Condition:
Cover/back portion has separated from the rest of the program
, although
cleanly
. The theatre goods page also
has pencil markings on it
from its previous owner (probably a child). The cover/back portion itself has some general wear, but all the pages but the theatre goods page are pristine!
$5.00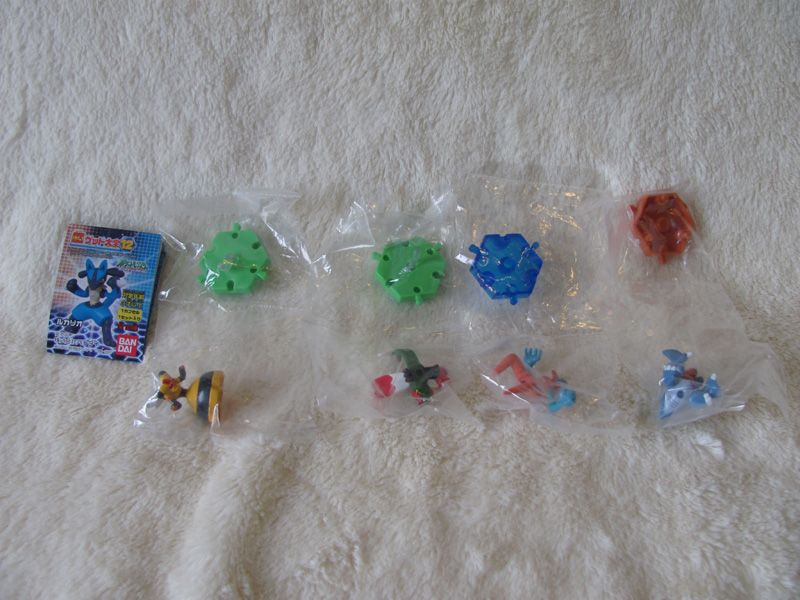 Chou Get Part 12!
All sealed and come with an insert. Available:
Yanmega, Gabite, Vespiquen, Deoxys $2.50 each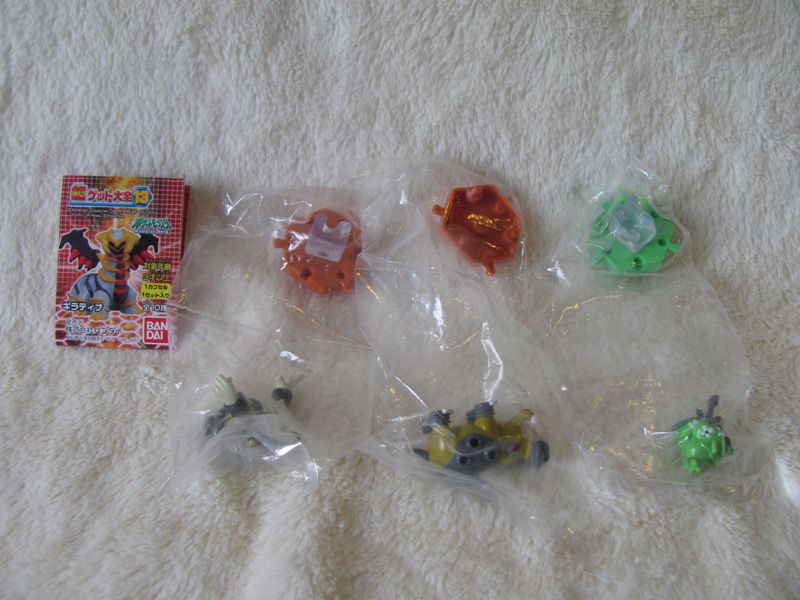 Chou Get Part 13!
All sealed and come with an insert. Available:
Hippowdon, Dusknoir, Wormadam Grass $2.50 each.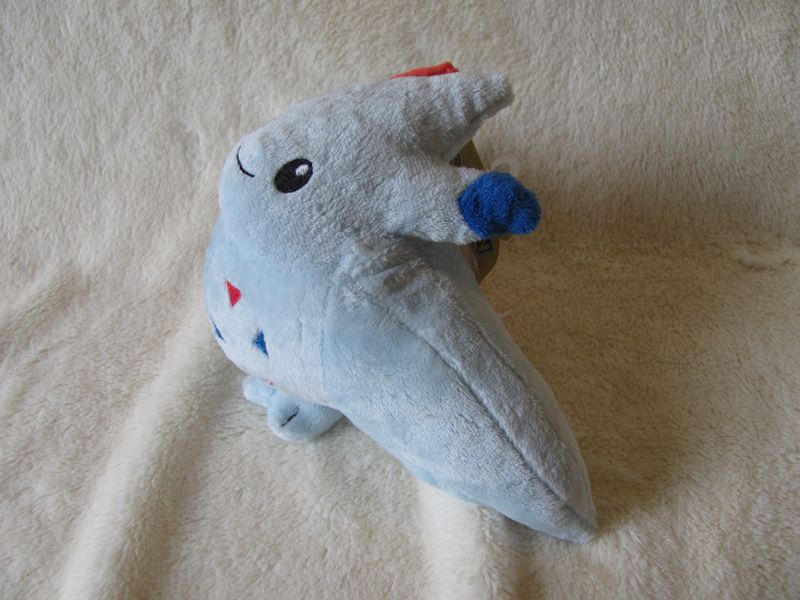 Jakks Pacific Togekiss Plush!
Mint condition with a near-mint hang tag (minor crease pictured here).
$8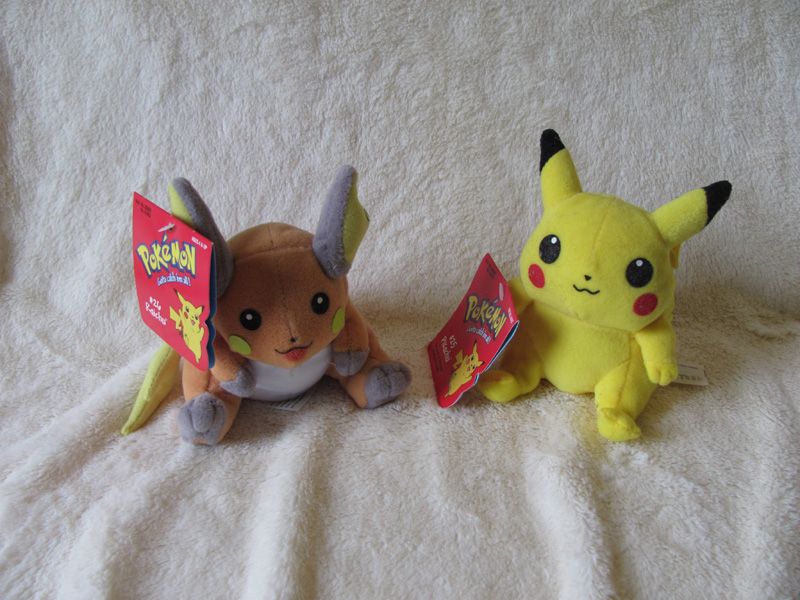 Pikachu and Raichu Hasbro Beanies!
Mint with mint tags.
$8 each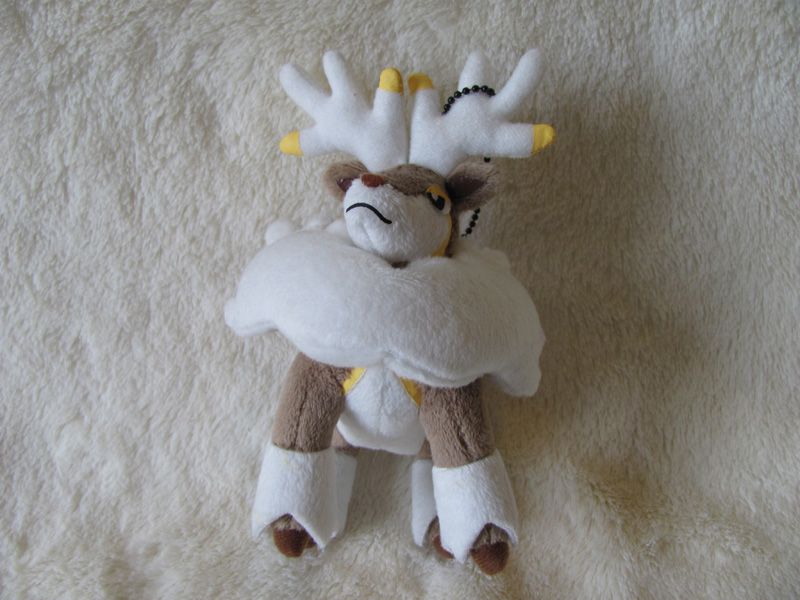 Winter Sawsbuck MPC Plush!
Mint with mint tush tag, no hang tag.
$8